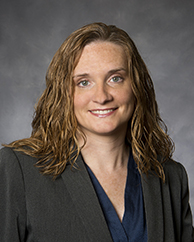 Virginia Ellen Griffis is from Macclenny, Florida, and was born in 1979. She received her A.A., summa cum laude, from Lake City Community College in 1998 and then attended the University of Florida, where she received her B.A., with honors, in 2001 and her J.D., cum laude, in 2004. She is admitted to The Florida Bar.
Ms. Griffis is a member of the Eighth Judicial Circuit Bar Association (Board of Directors 2006-2008 and 2009-2010), the American Inns of Court, the North Central Florida Estate Planning Council (Board of Directors 2008-2011), the North Florida Association of Real Estate Attorneys, and the Florida Bar. She also served on the Board of Directors of Girl's Place, Inc. from 2012 to 2017.
Her main practice areas include wills, trusts, estate planning, probate administration, trust administration, and real estate law, including real estate litigation and title cures.
Location: West Office
Phone: 352-376-5242